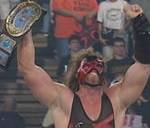 KANE Holds DOUBLE GOLD!!!!!
From WWE.com
September 30, 2002

From the Compaq Center in Houston, TX, Eric Bischoff announced plans for a "blockbuster match" at No Mercy!
Bisch said that at No Mercy, the Intercontinental Champion and the World Heavyweight Champion would meet in a match for ALLLLLL the marbles!

One week after chosing to team up with The Hurricane and taking the WWE Tag Team Championship, KANE captured more gold - his second title since his return at the end of August, this year - in the MAIN EVENT by battling not only Y2J, but Flair, HHH and then ~ after one of THE most grueling and action packed matches of his career ~ pinning Chris Jericho to capture the Intercontinental Championship!

As of tonight, HHH will meet KANE at No Mercy's main event!